Easily 3 lessons worth of work here.
Starts with a completing the square example-problem pair and some questions with a 'thoughts?' area. These are available as word file here, although I don't recommend you use that. I put all the questions, completing solving and minimum points, into one file and it's not really helpful. What I need to do is go back and edit this so that it's three separate worksheets with more variation on each one. I might get around to that at some point.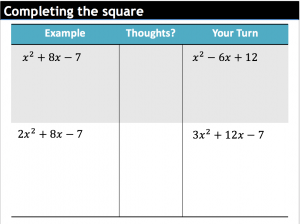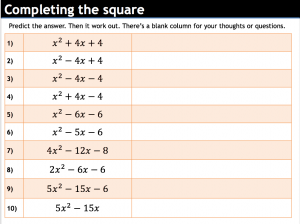 There's some plenary questions. Timed Questions are available here.
I also did the same for solving.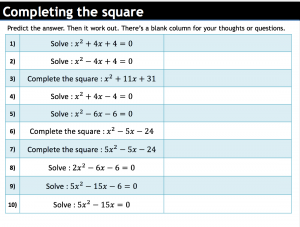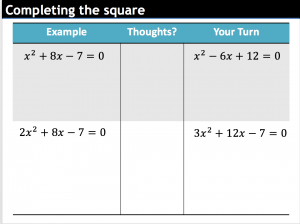 Timed Questions for solving are available here. I spent about 7 hours getting all the PDF generating up to scratch at the weekend. If you're using it, let me know.
I went for a different approach discussing minimum points. I presented the graphs next to each other and asked students to spot what had changed. Normally I would prefer to do this on autograph, however I think removing all the animations etc and not have it happening live is a benefit. Your milage may vary.
Also added a little minimum point activity.
This module isn't quite complete. It could do with some timed questions on minimum points and it could also do with one or two nice little tasks. I could also make separate vary and twists for each key skill. As it is, the cary and twist only really works as revision. But you know, end of term.
This will probably be the last lesson for a bit. I am moving to Bangkok on the 9th August, so I've got some preparation for that to do!
I will probably also try and do something with my question database. There's 15,000 questions in there and I could present them in a different way. Need to also add a topic selector to the main timed questions page so you can see what else is available.